Description
Excerpt From The E-Book Intro:
"Let me tell you, success normally doesn't happen overnight. In fact, the people who seem to be able to pull off any kind of success in a very short period of time have actually paid their dues.
That's right. They weren't born that way. They had to go through a long process of disappointment, failure, and yes, pain. If you see a lot of winners around you, it's because they put in the time. The good news is, you can do the same.
Discipline is not just about achieving your goals. It's also about becoming a better person. Because let's face it, if given a choice, we'd rather do things that are pleasurable, quick and easy right here, right now.
Unfortunately, life reserves the biggest rewards to people who would rather wait until they eat their cookie. If you develop that skill …"
Take A Look At The Sales Pages Included In This Bundle
View Upsell Product Sales Video
(Included In Your Purchase)
Product Modules Included In This Bundle -For Main Product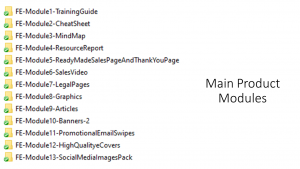 Product Modules Included In This Bundle -For Upsell Product